Hanan Anis
NSERC Chair in Entrepreneurial Engineering Design, Professor, and Faculty Coordinator in Entrepreneurship and Innovation, Faculty of Engineering
hanis@uOttawa.ca
Minto Sports Complex, room N205
801 King Edward
Ottawa, ON
K1N 6N5
Creativity and ingenuity on display!
Design Day is an event where students showcase the design projects they have developed as a solution for external partners of the Faculty. Industry professionals act as judges and determine a winning team in each category. The event is free and open to the public. Best of all, Design Day brings together industry professionals, families, friends, faculty members and students!
About Design Day
As part of the mandate of the NSERC Chair in Entrepreneurial Engineering Design (CEED), the Faculty of Engineering will be hosting two editions of Design Day each year, one during the Fall term, and one during the Winter term.
Upcoming event
Date: December 1, 2022
Time: 11:15 a.m. to 4:15: p.m.
Location: Coming soon
Showcase your project
If you are a student and are interested in presenting your project during Design Day, complete the online registration form.
Application status: Open
Deadline to register: November 28, 2022
---
Eligibility
All students, undergraduate and graduate, in the Faculty of Engineering are invited to participate and showcase their design projects. These design projects can be physical prototypes, design plans, apps or websites. Design projects can come out of a class, research or a personal project from either an individual student or a team. Prizes will be awarded to top teams in each category.
---
Projects
Project categories include:
Raft Cleaner
Brewery instrumentation
Digital Twin for Padel Ball
uOttawa Signage
Let's Explore Fauteux
Accessibility
Open
Image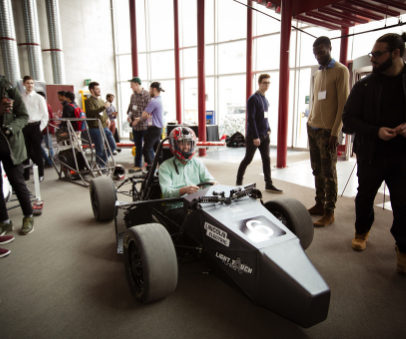 ---
Industry Partners
Image